ZIM vs IND: All-round India down Zimbabwe by five wickets in second ODI, clinch series 2-0
ZIM vs IND: Sanju Samson, Shubman Gill, and Shikhar Dhawan all played outstanding innings as Team India defeated Zimbabwe by five wickets in the second ODI of the three-match series on Saturday in Harare.
With this victory, India holds a 2-0 series lead and has won it with one game remaining. Zimbabwe's day was forgettable since their batting unit horribly failed. The hosts did not gain many advantages despite Luke Jongwe giving Team India a slight fright during their pursuit with two fast wickets. For India, Samson (43*), Gill, and Dhawan (each 33) scored some solid runs.
India's start in chasing 162 was poor. KL Rahul's homecoming was uneventful; he managed just one score in five deliveries before being caught leg-before-the-wicket by Victor Nyauchi. India's odds were now 5/1.
The batting was then continued by Shikhar Dhawan and Shubman Gill, who kept the scoreboard ticking for a while. Both batters made some impressive swings that made it to the fence. When Dhawan was caught for 33 on a Tanaka Chivanga pitch at square leg, their 42-run stand was shattered.
The pursuit was then resumed by Gill and Ishan Kishan. While Kishan did not have many huge hits, Gill was the aggressor throughout the entire inning. India stood at 75/2 after 10 overs, with Gill (33*) and Ishan Kishan (4*) batting.
After Kishan, the pair's 36-run partnership ended when medium-pacer Luke Jongwe removed his stumps.
Brad Evans caught Gill at deep third man, and Jongwe dismissed him for 33 to give Zimbabwe another victory.
Following these unexpected setbacks, Deepak Hooda and Sanju Samson had the duty of keeping India moving forward. To assist India get those final few runs, the pair started to play an aggressive style of cricket.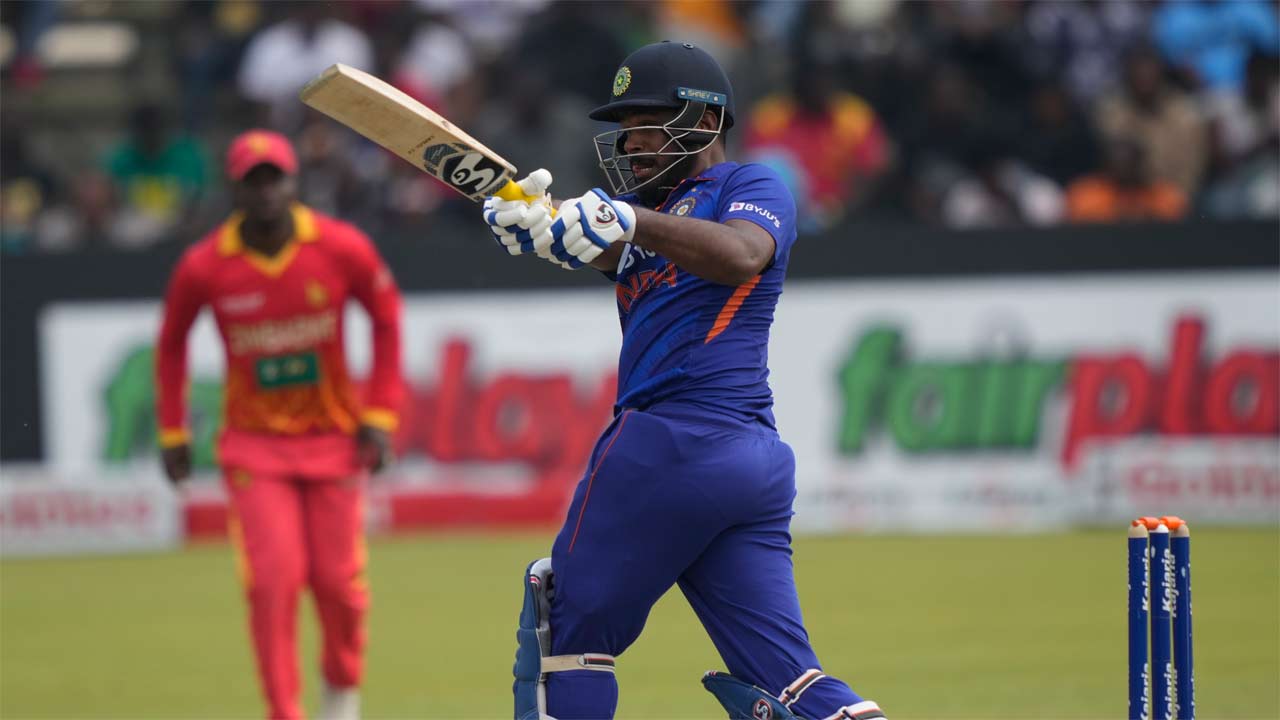 Particularly aggressive was Samson. With a magnificent six in the 23rd over, he set up a fifty-run stand between himself and Hooda.
Sikander Raza, though incredibly late, gave Zimbabwe a breakthrough. When Deepak Hooda was 25 off 36 balls, his stumps knocked loose. At 153 runs, half of Team India had returned to the pavilion.
With only around half of the innings and five wickets remaining, the partnership of Axar Patel (6*) and Sanju Samson (43*) led India to victory. India won this game to take the series 2-0. Samson's massive six let India to defeat Zimbabwe for the seventh time in a row.
In the first ODI of the three-match series, Zimbabwe defeated by a world-class Indian bowling lineup for only 161 runs in just 38.1 overs on Saturday.
The only hosts who could contribute meaningfully were Sean Williams (42) and Ryan Burl (41*), while Indian bowlers, particularly Shardul Thakur (3/38) feasted on the hitters and prevented any significant partnerships from forming.
India gave Zimbabwe the opportunity to bat first, but its openers Takudzwanashe Kaitano and Innocent Kaia failed to give their team a strong start. Kaitano the first player to dismissed by bowler Mohammed Siraj for just seven runs in the ninth over of the match after wicketkeeper Sanju Samson grabbed a spectacular diving catch.
After 10 overs, Zimbabwe had a score of 26/1, with Kaia (15*) and Wessly Madhevere (0*) joining her.
The next to go for 16 was Kaia after medium-pacer Shardul Thakur hit and Samson made another outstanding catch, cutting the home team's lead to 2/27. The next to depart was Regis Chakabva (2), the captain, and Thakur added another wicket. Zimbabwe's situation worsened when Madhevere also quickly eliminated by pacer Prasidh Krishna for just two runs after  caught by Samson.
Then Sikandar Raza and Sean Williams arrived to keep Zimbabwe's scoreboard updated. After returning Raza for 16 runs, spinner Kuldeep Yadav ended a 41-run stand that was looking promising. Ishan Kishan successfully caught the ball at the backward point area. Half of the Zimbabwean team had returned to the pavilion at this point after scoring 72 runs.
The following duo, Ryan Burl and Williams, assisted their team in surpassing the 100-run barrier. Williams out for 42 off 42 balls after dismissed by Deepak Hooda's masterful spin. Zimbabwe had gotten as low as 109/6 at this point.
Burl and Luke Jongwe kept the hosts' scoreboard in motion for a time. Thakur took his third wicket in the 33rd over of the contest, eliminating Jongwe for 6 off 16 balls. Zimbabwe's score at this moment was a dismal 129/7.
Brad Evans removed by Axar Patel, giving Zimbabwe insufficient time and overs to recover from this wicket. When attempting to catch, the batter's stumps damaged by an inside edge. At this point, the score was 149/8.
After run out by KL Rahul and Sanju Samson, Victor Nyauchi the next Zimbabwean to go after just scoring four runs. At 160/9, Zimbabwe in trouble and one wicket away from bowled out for yet another low total.
Tanaka Chivanga dismissed for 4 runs by Kuldeep Yadav and Prasidh Krishna, who then bowled Zimbabwe out for 161 runs in 38.1 overs, putting the icing on the cake for the hosts.
The best bowler for India was Shardul Thakur, who took 3/38. One wicket apiece taken by Siraj, Krishna, Kuldeep, Hooda, and Axar Patel.
Brief Scores:
Zimbabwe 161 in 38.1 overs (Sean Williams 42, Ryan Burl 41*, Shardul Thakur 3/38) lost to India 167/5 in 25.4 overs (Sanju Samson 43*, Shubman Gill 33, Luke Jongwe 2/33).