IPL 2022: Rajasthan Royals unveil new jersey ahead of the season
IPL 2022: Rajasthan Royals official match kit for the 2022 IPL season is inspired by an ancient art form deeply rooted in the state of Rajasthan, and is an ode to its enchanting textile industry.
Rajasthan Royals pride themselves on representing the cultural heritage of Rajasthan in every way possible – whether it's on the field or off it. And when it comes to there official IPL jersey, Royals are always in pursuit of creating something special, something that adds value to there purpose, that represents society and leaves a lasting impression on everyone's minds. Add to this, a dash of thrill to reveal there Pink every season – the circle is complete!
Pink & blue. But all-new. 💗

The Rajasthan Royals official #IPL2022 match kit has been (express) delivered. 🏍️🔥#HallaBol | #GivesYouWiiings | @IamSanjuSamson | @yuzi_chahal | @ParagRiyan | @redbullindia pic.twitter.com/HW75lGusVN

— Rajasthan Royals (@rajasthanroyals) March 15, 2022
In 2020, there jerseys landed from the sky, literally. The Royals asked to gather at a beach in Dubai, where they curiously waited for what was coming next. Suddenly, they spotted a skydiver free-falling all the way down. It was Red Bull Athlete Dani Roman, who had jumped out of a plane, thousands of feet above the Palm Islands. Flying over the awestruck players, he dropped off a bag full of Royals jerseys on the beach to a roaring applause. The Royals excitedly reached out for the bag, wearing and unveiling the jersey in style!
Last season, the Royals match kit designed using a combination of four block prints representing the causes that are close to there hearts – a tribute to the Khejri tree of Rajasthan, their efforts to enable empowered women, raising awareness on mental well-being, and the lioness as the foundation of there pride. The result was a vibrant, beautiful hue of pink and blue, and it was revealed in the most iconic way.
In partnership with Red Bull, Rajasthan Royals official jersey launch partner, Royals lit up Jaipur's Sawai Mansingh Stadium for a 3D audio-visual and light show, giving fans around the world a grand first glimpse of there 2021 jersey. Not just the fans, even there players watched their own 3D selves on the live telecast straight from their bio-bubble!
This year, with the IPL returning to India, Rajasthan Royals decided to go back to there roots. Since the pre-Independence era, Rajasthan is renowned for its quintessential fabrics with intricate designs and embroidery patterns. Taking inspiration from its rich textile industry, they wanted to pay tribute to an art form. That has historically imbibed by the royalty of Rajasthan.
The 2022 Royals jersey is inspired by a unique Rajasthani design called the 'Leheriya', meaning 'wave' in English. Dating back to the 17th century, the tie-and-dye patterns used in this design result in diagonal or v-shaped stripes, resembling the winds blowing across Rajasthan's deserts. The distinctive patterns, usually on brightly coloured cloth, formed through 'resist dyeing' – a technique that is unique to the state.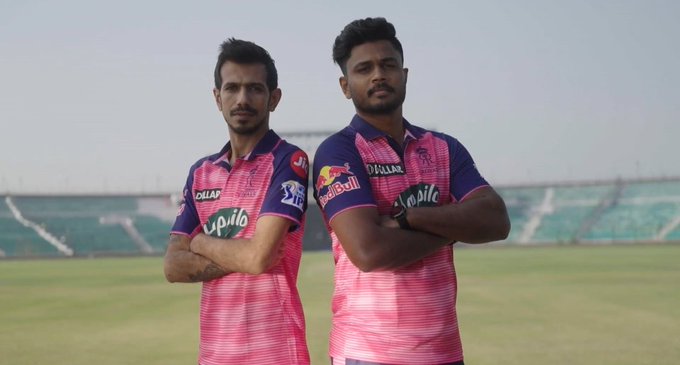 The complex yet beautiful patterns eventually patronised by royalty in Rajasthan back in the day. With artisans rewarded for their work. Not just the jersey. But even the turbans ('saafa') that the Royals spotted wearing on their arrival in Mumbai, designed using the same technique. An inherently royal part of traditional Rajasthan attire, these 'saafas' commonly worn in the state's rural areas to date.
And once again, Rajasthan Royals teamed up with Red Bull to deliver yet another visually stunning jersey reveal. This time, it was famous Australian stunt biker Robbie Maddison, who was ready to enthral with his pyrotechnics. With a 'Top Secret' parcel in his bag, Maddison zipped past some of Jaipur's most iconic locations. As well as narrow bylanes on his motorbike to personally deliver the new Royals jersey at the Sawai Mansingh Stadium – where the Royals captain Sanju Samson. And teammate Yuzvendra Chahal were busy practising. Maddison rode all the way up to the roof of the stadium, paused for a few seconds. And launched his bike straight down the building and onto the cricket field. Successfully delivering the package to Samson and Chahal.
"With regards to the jersey launch, each year we work with our long-term partner, Red Bull, to come up with a really special and memorable event. I think the team has taken it to another level for 2022! I doubt there has ever been a reveal like this in the history of sport. And I hope it excites sports fans around the world. While giving them an insight into the beautiful state of Rajasthan," said Jake Lush McCrum, Chief Executive Officer, Rajasthan Royals.
In today's fast-evolving fashion scene in India and the world over. The Leheriya patterns are finding their own unique place. Moreover, commonly referred to as the 'tie-and-dye' style in the contemporary scheme of things. With their inspired Royals jersey this year. They're paying homage to this vibrant, evolving design that stands out from the rest. And to the state's textile industry that has kept the royal tradition alive. It is also there way of thanking the artisans, whose tireless efforts will find a way of recognised. And appreciated even more. When the Royals proudly don these jerseys every single time this season.