IPL 2022: Punjab Kings Full league stage schedule, matches timings, venues and full squad
IPL 2022: The Punjab Kings, who have a new captain in Mayank Agarwal and an entirely new look, will be hoping that their nearly complete rebuild pays off when the IPL 2022 season starts on March 27.
After only retaining Mayank and Arshdeep Singh, Punjab Kings spent a lot of money at the auction table. The franchise seems to be a strong team on paper, but they will face strong competition in Group B, which includes Chennai Super Kings, Royal Challengers Bangalore, Sunrisers Hyderabad, and Gujarat Titans.
The Punjab Kings will play two games against each of these teams, as well as the Delhi Capitals, who are their Group A rivals. Kings play one game each against the Mumbai Indians, Kolkata Riders, Rajasthan Royals, and Lucknow Super Giants.
Mayank and co. will be looking to get off to a strong start when they kick-off their 2022 campaign against 2016 runners-up Bangalore.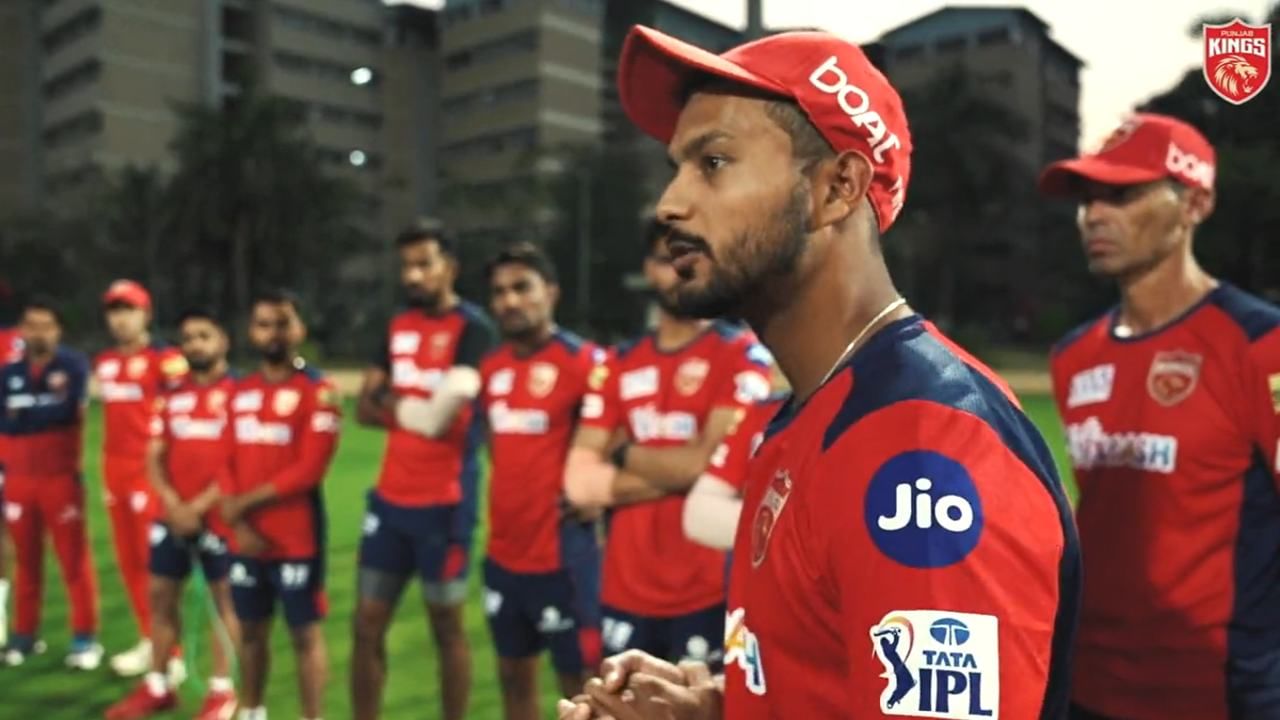 Here's a look at Punjab Kings' complete league stage schedule for IPL 2022:
27 March, Match 1, Sunday: Punjab Kings vs Royal Challengers Bangalore at DY Patil Stadium in Mumbai at 7:30 PM
1 April, Match 2, Friday: Kolkata Knight Riders vs Punjab Kings at Wankhede Stadium in Mumbai at 7:30 PM
3 April, Match 3, Sunday: Chennai Super Kings vs Punjab Kings at Brabourne Stadium-CCI in Mumbai at 7:30 PM
8 April, Match 4, Friday: Punjab Kings vs Gujarat Titans at Brabourne Stadium-CCI in Mumbai at 7:30 PM
13 April, Match 5, Wednesday: Mumbai Indians vs Punjab Kings at MCA Stadium in Pune at 7:30 PM
17 April, Match 6, Sunday: Punjab Kings vs Sunrisers Hyderabad at DY Patil Stadium in Mumbai at 3:30 PM
20 April, Match 7, Wednesday: Delhi Capitals vs Punjab Kings at MCA Stadium in Pune at 7:30 PM
25 April, Match 8, Monday: Punjab Kings vs Chennai Super Kings at Wankhede Stadium in Mumbai at 7:30 PM
29 April, Match 9, Friday: Punjab Kings vs Lucknow Super Giants at MCA Stadium in Pune at 7:30 PM
3 May, Match 10, Tuesday: Gujarat Titans vs Punjab Kings at DY Patil Stadium in Mumbai at 7:30 PM
7 May, Match 11,Saturday: Punjab Kings vs Rajasthan Royals at Wankhede Stadium in Mumbai at 7:30 PM
13 May, Match 12, Friday: Royal Challengers Bangalore vs Punjab Kings at Brabourne Stadium-CCI in Mumbai at 3:30 PM
16 May, Match 13, Monday: Punjab Kings vs Delhi Capitals at DY Patil Stadium in Mumbai at 7:30 PM
22 May, Match 14, Sunday: Sunrisers Hyderabad vs Punjab Kings at Wankhede Stadium in Mumbai at 7:30 PM
Punjab Kings Full Squad:
Shikhar Dhawan, Mayank Agarwal (Captain), Arshdeep Singh, Kagiso Rabada, Jonny Bairstow, Rahul Chahar, Harpreet Brar, Shahrukh Khan, Prabhsimran Singh, Jitesh Sharma, Ishan Porel, Liam Livingstone, Odeon Smith, Sandeep Sharma, Raj Angad Bawa, Rishi Dhawan, Prerak Mankad, Vaibhav Arora, Writtick Chatterjee, Baltej Dhanda, Ansh Patel, Nathan Ellis, Atharva Taide, Bhanuka Rajapaksa, Benny Howell
Complete IPL 2022 schedule of league phase:
26 March – Chennai Super Kings versus Kolkata Knight Riders – Wankhede Stadium – 7.30 PM
27 March – Delhi Capitals versus Mumbai Indians – CCI -3.30 PM
27 March – Punjab Kings versus Royal Challengers Bangalore – DY Patil Stadium – 7.30 PM
28 March – Gujarat Titans versus Lucknow Super Giants – Wankhede Stadium – 7.30 PM
29 March – Sunrisers Hyderabad versus Rajasthan Royals – MCA Stadium, Pune – 7.30 PM
30 March – Royal Challengers Bangalore versus Kolkata Knight Riders – DY Patil stadium, 7.30 PM
31 March – Lucknow Super Giants versus Chennai Super Kings – CCI – 7.30 PM
1 April – Kolkata Knight Riders versus Punjab Kings – Wankhede Stadium – 7.30 PM
2 April – Mumbai Indians versus Rajasthan Royals – DY Patil Stadium – 3.30 PM
2 April – Gujarat Titans versus Delhi Capitals – MCA Stadium Pune – 7.30 PM
3 April – Chennai Super Kings versus Punjab Kings – CCI – 7.30 PM
4 April – Sunrisers Hyderabad versus Lucknow Super Giants – DY Patil stadium – 7.30 PM
5 April – Rajasthan Royals versus Royal Challengers Bangalore – Wankhede Stadium – 7.30 PM
6 April – Kolkata Knight Riders versus Mumbai Indians – MCA Stadium, Pune – 7.30 PM
7 April – Lucknow Super Giants versus Delhi Capitals – DY Patil stadium – 7.30 PM
8 April – Punjab Kings Gujarat Titans – CCI – 7.30 PM
9 April – Chennai Super Kings versus Sunrisers Hyderabad – DY Patil stadium – 3.30 PM
9 April – Royal Challengers Bangalore versus Mumbai Indians – MCA Stadium, Pune – 7.30 PM
10 April – Kolkata Knight Riders versus Delhi Capitals – CCI – 3.30 PM
10 April – Rajasthan Royals versus Lucknow Super Giants – Wankhede Stadium – 7.30 PM
11 April – Sunrisers Hyderabad versus Gujarat Titans – DY Patil Stadium – 7.30 PM
12 April – Chennai Super Kings versus Royal Challengers Bangalore – DY Patil Stadium – 7.30 PM
13 April – Mumbai Indians versus Punjab Kings – MCA Stadium, Pune 7.30 PM
14 April – Rajasthan Royals versus Gujarat Titans – DY Patil Stadium – 7.30 PM
15 April – Sunrisers Hyderabad versus Kolkata Knight Riders – CCI – 7.30 PM
16 April – Mumbai Indians versus Lucknow Super Giants – CCI – 3.30 PM
16 April – Delhi Capitals versus Royal Challengers Bangalore – Wankhede Stadium – 7.30 PM
17 April – Punjab Kings versus Sunrisers Hyderabad – DY Patil Stadium – 3.30 PM
17 April – Gujarat Titans versus Chennai Super Kings – MCA Stadium, Pune – 7.30 PM
18 April – Rajasthan Royals versus Kolkata Knight Riders – CCI – 7.30 PM
19 April – Lucknow Super Giants versus Royal Challengers Bangalore – DY Patil Stadium – 7.30 PM
20 April – Delhi Capitals versus Punjab Kings – MCA Stadium, Pune – 7.30 PM
21 April – Mumbai Indians versus Chennai Super Kings – DY Patil Stadium, 7.30 PM
22 April – Delhi Capitals versus Rajasthan Royals – MCA Stadium Pune, 7.30 PM
23 April – Kolkata Knight Riders versus Gujarat Titans – DY Patil stadium, 3.30 PM
23 April- Royal Challengers Bangalore versus Sunrisers Hyderabad – CCI – 7.30 PM
24 April – Lucknow Super Giants versus Mumbai Indians – Wankhede Stadium – 7.30 PM
25 April – Punjab Kings versus Chennai Super Kings – Wankhede Stadium – 7.30 PM
26 April –Royal Challengers Bangalore versus Rajasthan Royals – MCA Stadium Pune, 7.30 PM
27 April – Gujarat Titans versus Sunrisers Hyderabad – Wankhede Stadium – 7.30 PM
27 April – Delhi Capitals versus Kolkata Knight Riders – Wankhede Stadium – 7.30 PM
29 April – Punjab Kings versus Lucknow Super Giants – MCA Stadium, Pune – 7.30 PM
30 April – Gujarat Titans versus Royal Challengers Bangalore, CCI – 3.30 PM
30 April – Rajasthan Royals versus Mumbai Indians – DY Patil Stadium, 7.30 PM
1 May – Delhi Capitals versus Lucknow Super Giants – Wankhede Stadium – 3.30 PM
1 May – Sunrisers Hyderabad versus Chennai Super Kings – MCA Stadium, Pune 7.30 PM
2 May – Kolkata Knight Riders versus Rajasthan Royals – Wankhede Stadium – 7.30 PM
3 May – Gujarat Titans versus Punjab Kings – DY Patil Stadium – 7.30 PM
4 May – Royal Challengers Bangalore versus Chennai Super Kings – MCA Stadium, Pune, 7.30 PM
5 May – Delhi Capitals versus Sunrisers Hyderabad – CCI -7.30 PM
6 May –Gujarat Titans versus Mumbai Indians – CCI – 7.30 PM
7 May – Punjab Kings versus Rajasthan Royals – Wankhede Stadium – 3.30 PM
7 May – Lucknow Super Giants versus Kolkata Knight Riders – MCA Stadium, Pune – 7.30 PM
8 May – Sunrisers Hyderabad versus Royal Challengers Bangalore – Wankhede Stadium – 3.30 PM
8 May – Chennai Super Kings versus Delhi Capitals – DY Patil Stadium – 7.30 PM
9 May – Mumbai Indians versus Kolkata Knight Riders – DY Patil Stadium – 7.30 PM
10 May – Lucknow Super Giants versus Gujarat Titans – MCA Stadium, Pune – 7.30 PM
10 May – Rajasthan Royals versus Delhi Capitals – DY Patil Stadium, 7.30 PM
12 May – Chennai Super Kings versus Mumbai Indians – Wankhede Stadium – 7.30 PM
13 May – Royal Challengers Bangalore versus Punjab Kings – CCI – 7.30 PM
14 May – Kolkata Knight Riders versus Sunrisers Hyderabad – MCA Stadium, Pune – 7.30 PM
15 May – Chennai Super Kings versus Gujarat Titans – Wankhede Stadium – 3.30 PM
15 May – Lucknow Super Giants versus Rajasthan Royals – CCI – 7.30 PM
16 May – Punjab Kings versus Delhi Capitals – DY Patil Stadium, 7.30 PM
17 May – Mumbai Indians versus Sunrisers Hyderabad – Wankhede Stadium – 7.30 PM
18 May – Kolkata Knight Riders versus Lucknow Super Giants – DY Patil Stadium, 7.30 PM
19 May – Royal Challengers Bangalore versus Gujarat Titans – Wankhede Stadium – 7.30 PM
19 May – Rajasthan Royals versus Chennai Super Kings – CCI – 7.30 PM
21 May – Mumbai Indians versus Delhi Capitals – Wankhede Stadium – 7.30 PM
22 May – Sunrisers Hyderabad versus Punjab Kings – Wankhede Stadium – 7.30 PM