Asia Cup 2022: Sana Mir lauds Pakistan batter Fakhar Zaman for walking off after faint nick to wicketkeeper Dinesh Karthik during India vs Pakistan clash
Asia Cup 2022: Former Pakistan captain Sana Mir praised top order Fakhar Zaman for returning to the pavilion after stealing the ball from wicket-keeper Dinesh Karthik during their tense Asia Cup 2022 match against India in Dubai on Monday,
"Hats off to @FakharZamanLive for walking off after a nick in a loud stadium when no one heard it. How many would do that specially in such a high-profile game? #PakVsInd #AsiaCup2022," tweeted Sana.
Zaman was outclassed by the extra bounce created by the ball in the fifth ball of pacer Avesh Khan's fifth over of Pakistan's batting, and as a result, the ball hit the edge of his bat and went directly into Dinesh Karthik's hands.
The nick, though, was incredibly weak and was unheard by both players on the field and spectators watching on television in the midst of such a boisterous crowd. No one even appealed to the umpire, and Indian players lacked excitement.
To the surprise of the spectators and Indian players, the umpire raised the finger when Zaman attempted to walk off after realising he had been caught behind. The southpaw scored 10 runs on six balls and returned to the pavilion.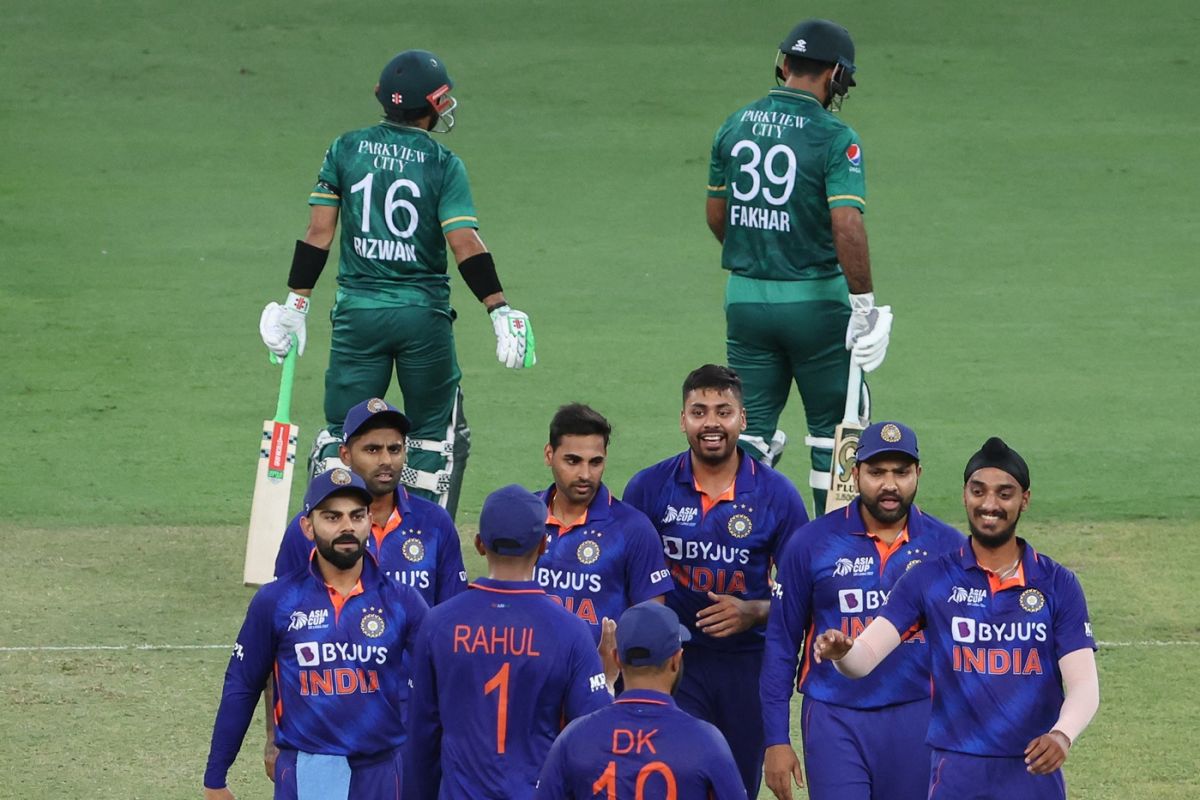 In a high profile match as India versus Pakistan, where pressure is great on both teams, and they pull to all the means to win, Zaman's gesture of really admitting his dismissal and heading back to the pavilion comes off as incredibly unusual and shocking.
Coming to the match, Pakistan dismissed for 148 runs in 19.4 overs. Only Iftikhar Ahmed (28) and opener Mohammed Rizwan (43) were able to make a decent contribution with the bat.
Pakistani hitters completely overwhelmed by the pace and short deliveries of Bhuvneshwar Kumar (4/26), Hardik Pandya (3/25) and Arshdeep Singh (2/33) and Avesh Khan (1/19), and wickets continued to fall regularly.
Hats off to @FakharZamanLive for waking off after a nick in a loud stadium when no one heard it. How many would do that specially in such a high profile game? #PakVsInd #AsiaCup2022

— Sana Mir ثناء میر (@mir_sana05) August 28, 2022
India lost KL Rahul for a duck in the opening over of their 149-run chase. After that, the innings was led by Virat Kohli (35) and the captain, Rohit Sharma (12). They both toiled at the other end and put together a 49-run partnership. India held to 3/53 by Mohammed Nawaz's double strikes, which resulted in the dismissals of Sharma and Kohli.
Following this, the scoreboard moved by a 36-run partnership between Ravindra Jadeja and Suryakumar Yadav. Before Suryakumar sent out for 18 by rookie Naseem Shah. India came close to winning the match thanks to a 52-run partnership between Jadeja (35) and Hardik Pandya (33*). With two balls remaining, the in-form Pandya hit a six to give India a five-wicket victory.
Pakistan's bowlers Nawaz (3/33) and Naseem Shah (2/27) performed admirably, but not good enough to secure a victory.
Pandya adjudged as 'Man of the Match' for his all-round performance.