Asia Cup 2022, India vs Pakistan: Watch out for these key player battles
Asia Cup 2022, India vs Pakistan: It's time to write a new chapter in the greatest cricket rivalry ever. Yes, it's time for another exciting cricket match between India and Pakistan.
India-Pakistan matches in international multi-nation tournaments add to the interest of the storied rivalry between the two cricketing heavyweights now that the two archrivals cannot play any bilateral series due to political considerations.
On August 28, India and Pakistan will square off at the Dubai International Cricket Stadium in the opening match of the Asia Cup. This will be the second game of the Asia Cup, which was moved from Sri Lanka to the UAE because of the current turmoil there.
Jasprit Bumrah and Shaheen Afridi, the pace spearheads for both India and Pakistan, are injured, but it won't lessen the heat and thrill of an India-Pakistan match.
Here are some of the major player encounters that could determine victory or defeat as well as what to be on the lookout for:
Virat Kohli vs Usman Qadir
Although Virat Kohli may be having a tough time by his own high standards, Pakistan will not want to underestimate the former Indian captain in such a significant match. In his 100th T20 international, Kohli will be more motivated than anyone to score a high total for India against Pakistan in the Asia Cup opener.
Without a doubt, playing against Pakistan is when Virat Kohli really shines. He has scored the most runs overall in T20I matches between Pakistan and India. The two teams have faced off in 9 T20I matches so far, with India holding a 6-2 advantage in the overall series. India prevailed in a bowl-out following a draw game in the 2007 T20 World Cup.
Virat has played seven Twenty20 Internationals (T20I) against the men in green, totaling 311 runs with a top score of 78*, an astounding average of 77.75, a strike rate of 118.25, and three half-centuries.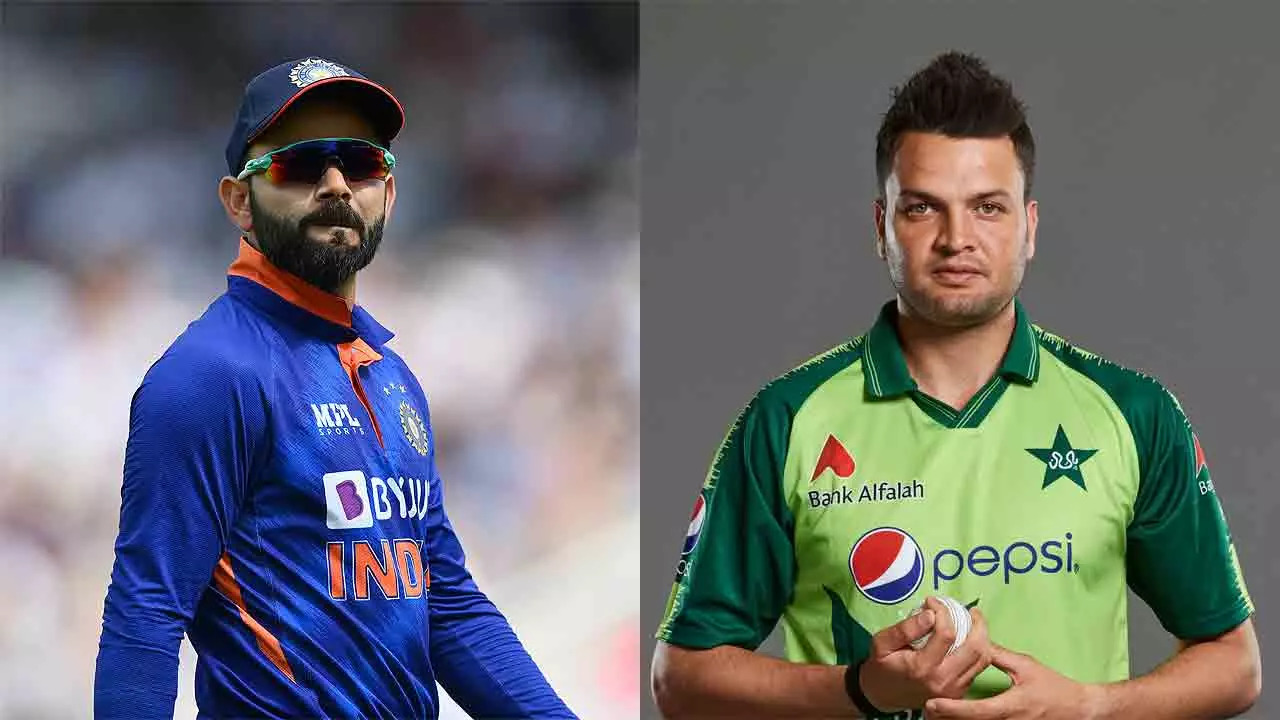 There is no better time than this for Kohli, who has yet to record a T20I century, to accomplish that feat and resume his form.
Usman Qadir, the son of the illustrious Abdul Qadir, would be the one trying to prevent Kohli from reaching that milestone. While leg spinners can be challenging to handle when the batsman is out of form and also seeking to score quickly, Kohli would be more cautious against all bowlers.
The 29-year-old Usman, whose action is identical to that of his late father, hasn't faced India in a T20I yet and will be hoping to make an immediate impact. Qadir has overall taken 24 wickets from 18 T20 Internationals, with a high of 4/13. At Rawalpindi in 2020, he played his first T20I match against Zimbabwe.
It's no secret that Virat has had difficulty with wrist spinners with the right arm. While Virat is still a new at the crease, the opposition teams try to unleash a leg-spinner. In 2020, Aussie leg-spinner Adam Zampa, who has traditionally troubled Virat quite a bit in limited overs cricket, was quoted as saying – ""We basically just found that Virat finds leg-spinners hard to line up early in his innings."
Even though Virat has frequently struggled in T20I cricket to read leg-spinners, if he survives the initial attack, he can also counterattack the leggies. In fact, Virat has among the top averages and strike rates against the leggies.
Virat vs Usman pits one of this generation's top batsmen against a bowler with the tools to challenge him in an effort to score large runs and quell his detractors. Keep an eye out for this important player conflict.
Rohit Sharma vs Naseem Shah
In addition to being the defending winners of the Asia Cup in both the ODI and T20I formats, India also holds the most overall titles with seven.
Virat Kohli was rested for the tournament in the UAE, therefore the previous Asia Cup was contested in the ODI format, and Rohit Sharma captained India to victory.
And Rohit would be eager to duplicate that success story this time, so India has to get off to a winning start against Pakistan in the crucial match. Pakistan is the other major title challenger.
Rohit, who has now made four hundreds in T20Is, the most of any batsman in the world, has been an enormous batting figure for India. He is a proven match-winner, and if he gets going as the team's opener, he may give them priceless momentum.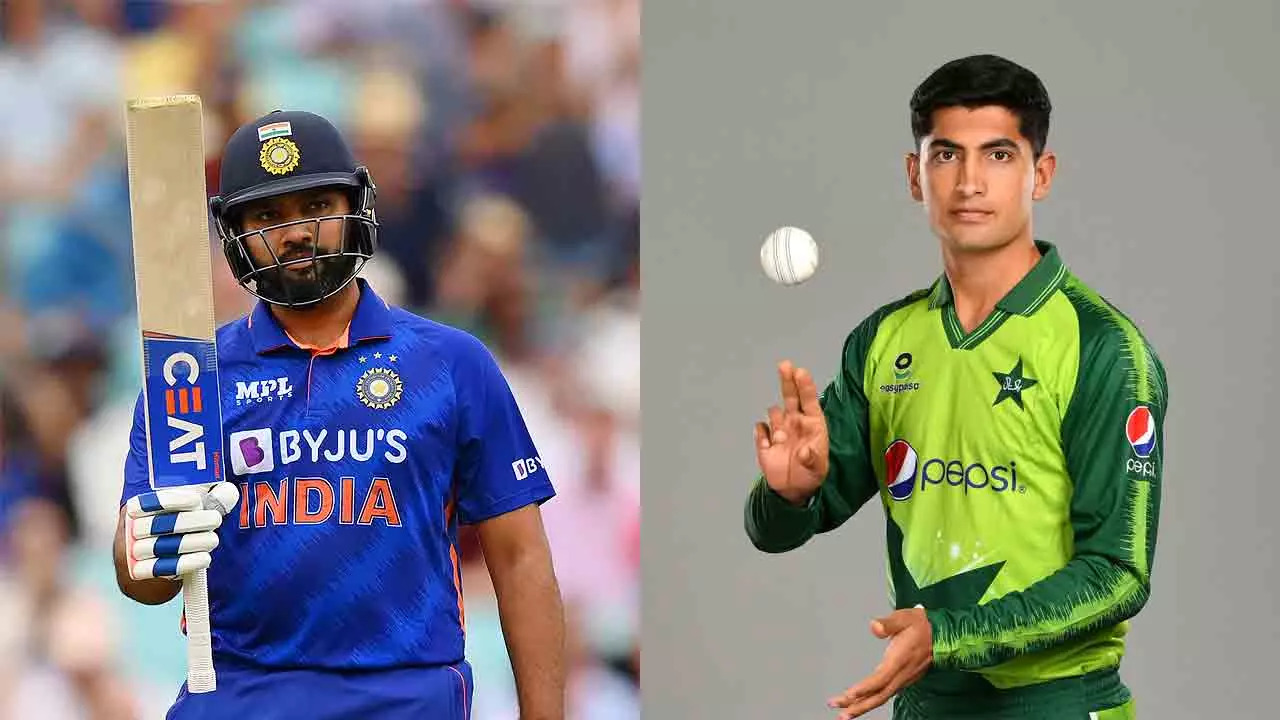 Rohit, meanwhile, has a less than stellar T20I record against Pakistan, scoring just 70 runs from 8 games with a top score of an undefeated 30. The Indian captain will undoubtedly try to alter some of those numbers.
First up for Rohit would be pacer Naseem Shah, who is renowned for his breakneck speed as well as his ability to swing and seam the ball. Additionally, Rohit, who might be a little hesitant in the beginning of his innings, must be especially cautious when he faces Naseem. At the start of his innings, the Indian captain can be caught off guard, and Naseem is aware of that. Since Rohit's legs don't move smoothly when he first enters the crease, Naseem, who can scorch the field with his speed, will try to pin Rohit back as soon as possible.
Although Naseem, 19, has participated in 13 Tests and 3 ODIs, he has not yet participated in a T20I, so what better chance will he have to make a lasting impression than against his bitter rivals? He will undoubtedly be eager to get rid of the Indian captain and a crucial hitter wearing the blue shirt.
The teen made his Test debut in 2019, but despite having just played his first ODI in a recent series against the Netherlands, he is quite inexperienced with limited overs formats. In his first game, he had figures of 3/51 from 10 overs.
Naseem has a very good chance of being selected for Pakistan's opening game against India. You wouldn't want to miss this match-up between a contemporary batting icon and a tearaway rookie.
Suryakumar Yadav vs Haris Rauf
Although Suryakumar Yadav's international career got off to a somewhat slow start, he is currently the anchor of the Indian top order and one of just four Indian batsmen with a T20I century to his credit.
Suryakumar, who is renowned for his amazing 360-degree shot making ability, was a member of the Indian lineup that lost the T20 World Cup match against Pakistan last year. He only managed to score 11 runs in that game, hitting a six and a four. After establishing himself as a formidable force in T20Is, where he has a strike rate of nearly 176, along with one century and five fifties, Suryakumar will try to use his diverse set of shots on Sunday to erase the memory of that traumatic India loss.
When SKY settles in, he has the ability to handle pace and spin better than many other batters. When he mentioned scoring his first T20I century against England at one point, he continued to move around the leg stump to make place for himself. He played either towards the leg side or inside out shots towards the off-side with ease as the bowler pursued him.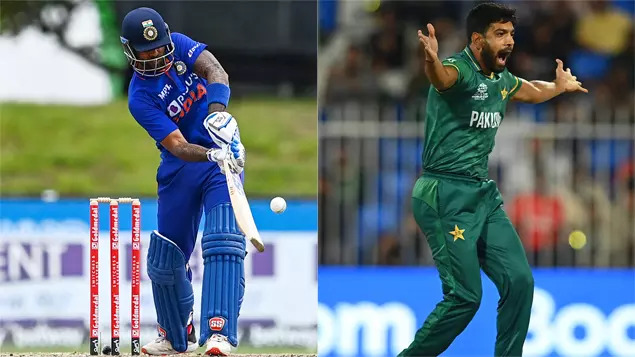 SKY has improved significantly since his days as a batter without many off-side strokes. But that is the past at this point, and he is frequently contrasted with AB de Villiers, who is Mr. 360 degree himself.
Pakistan will see that they must get rid of SKY as soon as possible. If they want to limit the harm he may do. Haris Rauf, enter — right arm, quick. Rauf can bowl at speeds of up to 150 kmph and can reach highs of 140 kmph. When he is singing, he might be a difficult opponent. Rauf dismissed Hardik Pandya for 11 in the India vs. Pakistan T20 World Cup match, inflicting India a severe defeat. The fact that Suryakumar lost to Hasan Ali, a bowler fairly dissimilar to Rauf. That is what the Men in green will recall about him from that game.
One among the bowlers entrusted with rattling SKY early in his innings might be Rauf. If this player struggle goes on, Rauf's ability to bowl unplayable bouncers is one weapon he might use against Surya.
Rauf has appeared in 35 T20Is and has already claimed 42 wickets with a best of 4/22.
According to his recent form, SKY should have the advantage. But if Rauf turns up the heat, we could be in for a really exciting contest.
Bhuvneshwar Kumar vs Babar Azam
Bhuvneshwar Kumar will have the added responsibility of striking early. And preventing Pakistan from getting off to a hot start in Jasprit Bumrah's absence.
Moreover, Bhuvneshwar will pose a real threat to Pakistan's top order. That will be led by their skipper Babar Azam, one of the best batters in the world right now. Because of his ability to bring the ball back into right-handed batters.
In his four T20I games against Pakistan, Bhuvneshwar has taken 5 wickets with a high of 3/9. Bhuvneshwar has taken out 73 opponents from 72 T20Is, including two four- and one five-wicket hauls.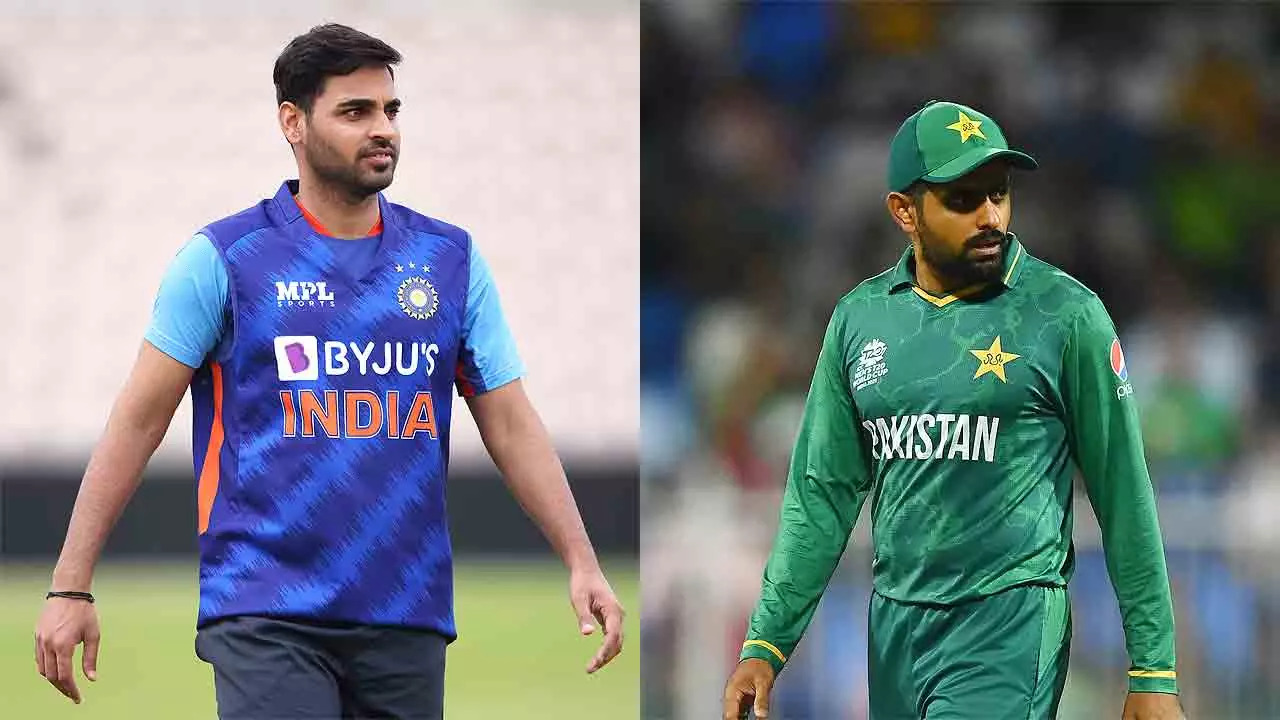 Babar Azam, who has only played one T20I against India. Heinspired his team to victory in that T20 World Cup match last year with a superb undefeated 68. That no Indian fan would want to recall. In the 74 T20Is that he played, Babar has a total of 102 half-centuries, totaling 2686 runs.
Babar has previously dismissed by Trent Boult, who has the ability to move the ball in the air. Despite the fact that he is practically unstoppable when on song. When Bhuvi bowls to perhaps the finest batter in the Pakistani team and the captain of that team. He will undoubtedly be thinking about that piece of information in the back of his head. Watch out for this key player battle that promises to produce some very good cricket.
Ravindra Jadeja vs Mohammad Rizwan
When the two archrivals last faced off in a T20 World Cup encounter. Mohammad Rizwan and Babar Azam of Pakistan ran away with the game. And cruised to a 10-wicket victory against India.
Like any other top team, Team India would have gained valuable lessons from that heartbreaking defeat. And one of them was to prevent Rizwan from settling.
It wouldn't be unexpected to see Rohit Sharma introduce Ravindra Jadeja early in the attack. In order to frighten someone like Rizwan with the new ball. Jadeja has the capacity to bowl quickly in the air. Also consistently hitting the same line and length until abruptly introducing a variation.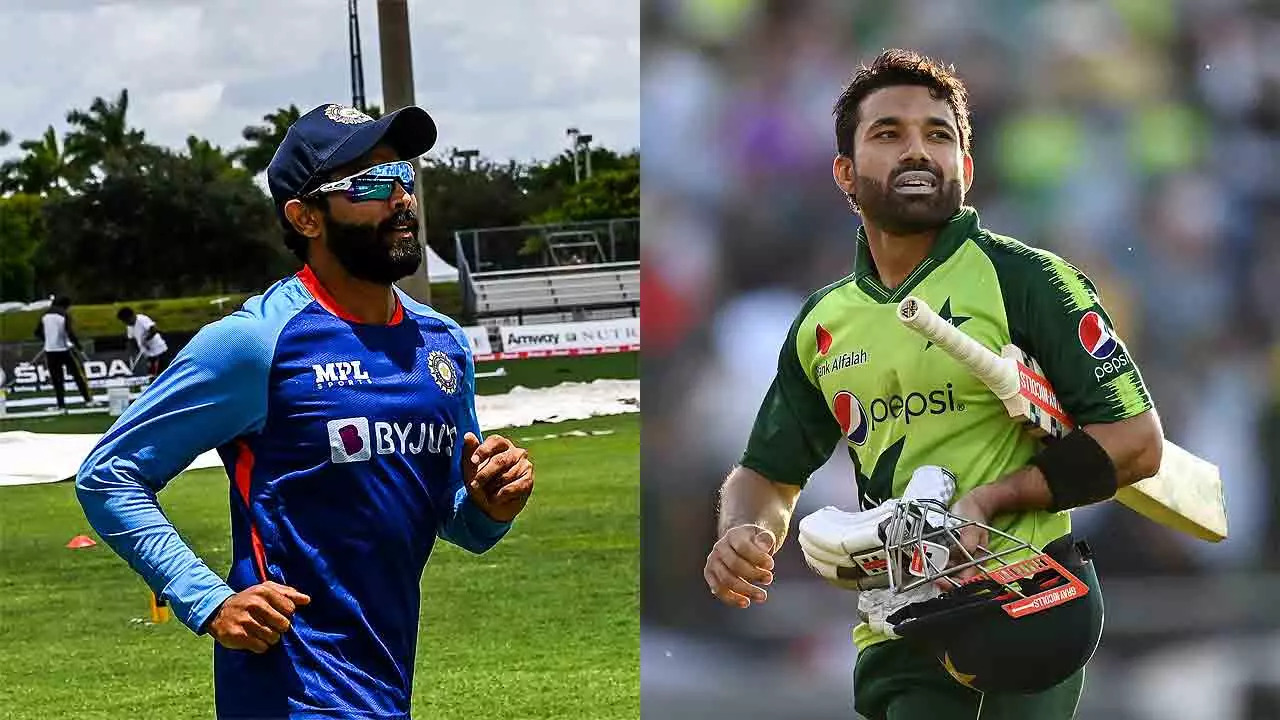 Prabath Jayasuriya, a left-arm spinner, was one of the bowlers who plagued Rizwan. During the last Test series between Pakistan and Sri Lanka in July. Similar to Jayasuriya, Jadeja finds the straight-on delivery, or arm-ball, to be a very helpful variant, particularly on twisting tracks.
In the second innings of the second Test, which Sri Lanka won to tie the series at 1-1. Jayasuriya, the man of the series in the two-match Test series against Pakistan in July of this year. He really plotted Rizwan's dismissal by bowling the arm-ball from closer to the stumps. Rizwan anticipated that the ball would deflect, but instead it slammed into his stumps.
The Indian team would have done this bit of research to try and develop a bowling strategy against Rizwan. He has quickly emerged as one of Pakistan's most dependable and productive batsmen.
With the legendary Adam Gilchrist as his role model. Rizwan is a free-flowing batsman who can completely change the course of a game with his batting onslaught. This was seen when he hammered a 55-ball 79*. With the help of three sixes and six fours against India in the T20 World Cup match.
Rizwan has played 56 T20Is overall, scoring a century and 13 half-centuries for averages of 50.36 and 128.83 respectively.
While playing against Pakistan in 5 T20Is, Jadeja has claimed 4 wickets with a best of 2/11. The Indian all-rounder has 50 wickets overall from 62 T20 Internationals, with a best of 3/15.
Watch out for Jadeja vs Rizwan.
The Pakistan middle order is still relatively inexperienced. So if the Indian bowlers can get players like Babar Azam and Mohammad Rizwan back to the pavilion early. Then the Men in Blue would have accomplished half of their task.