Asia Cup 2022, India vs Pakistan: Crucial knocks by Jadeja, Pandya help India register thrilling 5-wicket win over Pakistan
Asia Cup 2022, India vs Pakistan: The crucial partnership between Ravindra Jadeja and Hardik Pandya helped India defeat arch-rivals Pakistan in a thrilling clash by five wickets in the second game of the Asia Cup 2022, played on Sunday at the Dubai International Cricket Stadium, .
Jadeja scored 35 runs, and Pandya scored 33* runs in 17 balls. Mohammad Nawaz took three wickets for Pakistan, and Naseem Shah claimed two. India's attempt to chase down 148 runs got off to a horrible start when they lost their opener, KL Rahul, before they had even scored a run. Virat Kohli, who is playing his 100th T20I today, came to the crease when Rahul was dismissed.
The veteran Indian team of Rohit Sharma and Virat Kohli batted cautiously after losing one wicket but continued to blast boundaries to keep the scoreboard up.
As he continued to smash boundaries to maintain India in the run chase, Virat Kohli was in blistering form. Rohit too extended his hand, but his outing was cut short when Mohammad Nawaz removed him after he had scored 12 runs. The renowned all-rounder Ravindra Jadeja then stepped up to the plate.
In the same over, Nawaz struck again, halting Kohli's impressive run of 35 runs in 34 deliveries and sending him back to the pavilion.
At that point, India was under pressure due to Kohli's dismissal, but that pressure was immediately alleviated when Jadeja hit Nawaz for a six. India's score after 10 over was 62/3.
After Jadeja, Suryakumar Yadav joined him in battering Pakistani bowlers all over the stadium. For India's run chase to remain viable, both hitters hit some big shots with tenacity.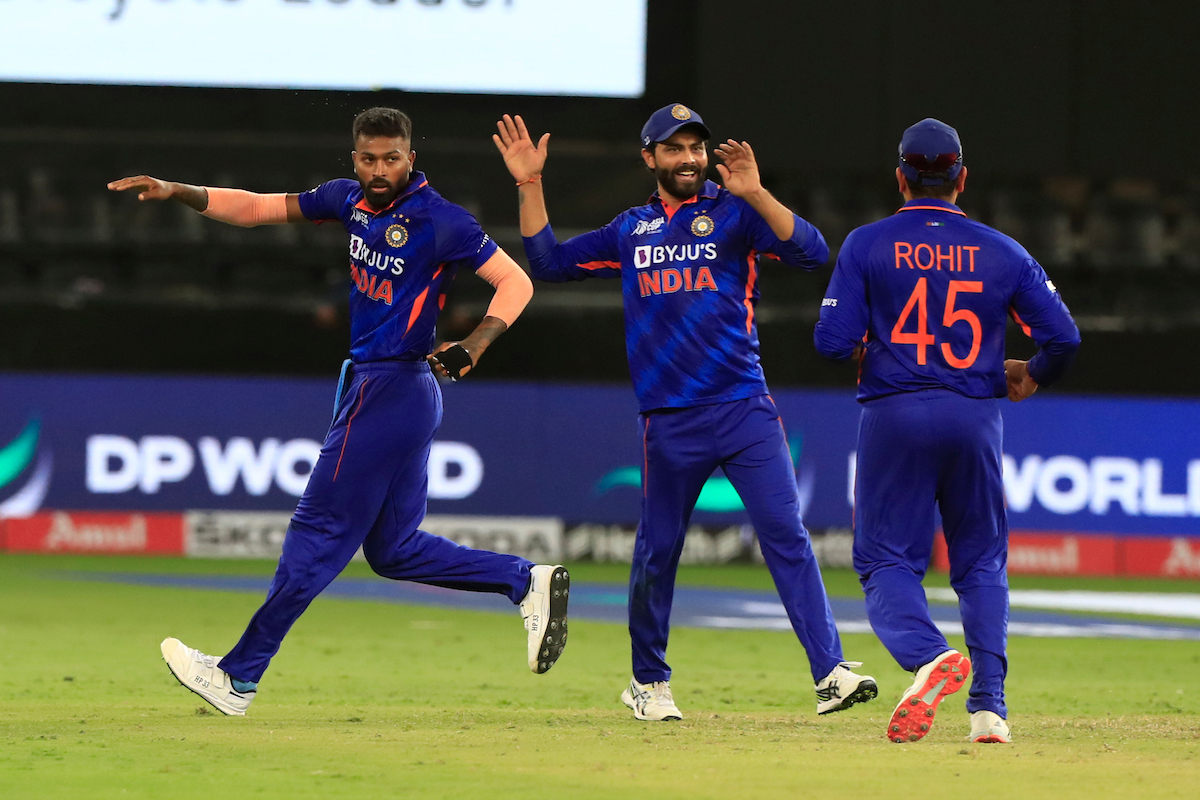 Suryakumar Yadav was dismissed by Pakistani bowler Naseem Shah after hitting 18 runs off of 18 balls, capping off a spectacular comeback in the game. Hardik Pandya, an all-rounder, arrived at the field to hold hands with Jadeja.
The number of runs needed to win was reduced to 32 in 18 balls in the 18th over. In the 18th over of the innings, Jadeja hit a four and a six.
Pandya hit three boundaries in the 19th over, helping India get close to the victory when they needed seven runs in six balls. Jadeja dismissed by Nawaz in the final over after hitting 35 runs in 29 balls, dealing a significant setback to the Indian squad.
Then Dinesh Karthik onto the field. Then, Pandya hit a massive six on the fourth delivery of the final ball to send his team home with a five-wicket victory over Pakistan.
Earlier, the fiery and tight bowling spells by Hardik Pandya and Bhuvneshwar Kumar helped India bundled out arch-rival Pakistan for 147 runs in the first match of the Asia Cup 2022, played on Sunday at the Dubai International Cricket Stadium.
Mohammad Rizwan scored 43 runs for Pakistan, and Iftikhar Ahmed added 28. For India, Arshdeep Singh grabbed two wickets, Bhuvneshwar Kumar four, and Hardik Pandya three each.
After deciding to bat first, India got off to a respectable start when their great bowler. Bhuvneshwar Kumar removed Pakistani skipper Babar Azam after the latter had scored 10 runs on 9 deliveries in the innings' third over.
India bowled 15 dot balls in its first four overs alone. Thanks to the excellent bowling of Bhuvneshwar Kumar and Arshdeep Singh.
Mohammad Rizwan played numerous audacious and aggressive shots to maintain the scoreboard after the captain dismissed. After that, Fakhar Zaman arrived to the crease to join the opener in the batter's box.
India made another stride forward when Avesh Khan sent Zaman back to the pavilion to give his team the advantage. After giving Rizwan a couple of boundaries, Khan took the wicket. Then opener Rizwan joined on the crease by Iftikhar Ahmed.
Rizwan and Ahmed continued to play together, pushing their team's score above the 50-run threshold. The Indian bowlers had a strong first half, holding Pakistan to 68/2 after 10 overs.
Iftikhar Ahmed dropped by Yuzvendra Chahal, but it didn't matter. Because Hardik Pandya dismissed him for 28 in the next over, leaving Pakistan at 87 for 3 after 12.1 overs.
Pandya delivered two devastating punches to Pakistan in the 15th over of the innings. By dismissing Rizwan for 43 in 42 balls and new batter Khushdil Shah (2).
Asif Ali dismissed by Bhuvneshwar in the 17th over of the innings with a magnificent bowl. That caught by Suryakumar Yadav, dealing a major blow to the Pakistani team.
After two blows, India did not allow Pakistan a chance to recover. Mohammad Nawaz removed by Arshdeep Singh in the 18th over when he could only muster one run.
Haris Rauf and Shadab Khan of Pakistan raised their hands to smash massive shots in the 19th over. But their hammering stopped when Bhuvneshwar LBWed Shadab Khan after he had scored 10 runs.
Bhuvneshwar struck again in the same over, removing Naseem Shah for nought runs.
As he assisted India in bowling out the Men in Green for 147 in the final over of the game, Arshdeep put an end to Pakistan's inning.
Brief score: Pakistan 147 (Mohammad Rizwan 43, Iftikhar Ahmed 28; Bhuvneshwar Kumar 4-26) vs India 148/5 (Ravindra Jadeja 35, Hardik Pandya 33*; Mohammad Nawaz 3-33).